Yoga Retreat in Andalusia 2024 (dates and venue to be confirmed)
Come and spend 5 nights/6 days in Málaga's countryside.
  Yoga Retreat prices:
**Get the Early Bird Price until 31/01/2024!!
€1,090.- per person in a shared double room or
€1,315.- single room
Deposit non-refundable € 225.-
Southern Spain has it all! From the first to the last minute of your stay, the magical energy of Spain and the Mediterranean climate will do their magic.
In this magical location on a hill south-west of the village of Casarabobela, in a mountainous area of the Sierra de las Nieves Natural Park, come and recharge your batteries.
Six days of yoga and breath work, delicious and nutritious food, good wine, in a group of like-minded people and above all lots of time for YOU. Relax by the pool, explore the area or visit the beautiful beaches just a short drive from the cortijo and enjoy an unforgettable week in Malaga.
ABOUT THE YOGA PROGRAMME
Our yoga programme is suitable for beginners and advanced students alike.
Yoga classes are held in English and German. We offer a combination of :
* dynamic yoga (Vinyasa, Hatha Flow)
* Gentle yoga (yin yoga, restorative)
*  Various meditations
* Breathing exercises/Pranayama
* Healing through sound and chanting of mantras
* Cocoa ceremony and much more
Places are limited !
Level: all levels
Price: €1,270.- /p.p shared-double room
Price: €1,495.- / single room
€ 225.- deposit non-refundable
INCLUDED:
Welcome Dinner upon arrival  –  Brunch-breakfast style  –  Tea, coffee, drinks and snacks during the day
NOT INCLUDED:
Flight tickets – Travel Insurance – Transfer – Other activities outside of the yoga program
Terms & Conditions
When filling in our Registration Form, please make sure you have read our Terms & Conditions
Email us here
if you have any questions, send us an email and we will happily reply to all your questions
Rooms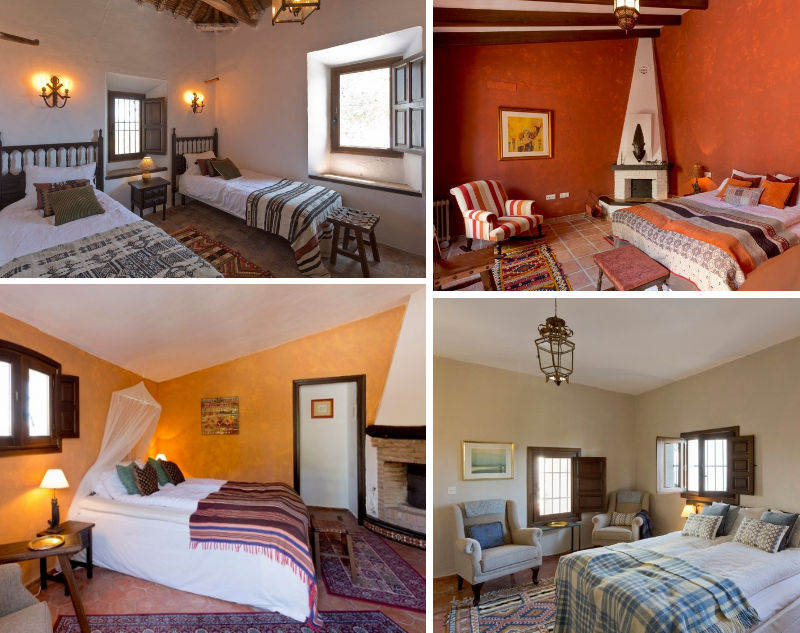 € 1,270.– per person in a shared-double room
€ 1,495.- in a single room
Places are limited
Early Bird Prices: (valid until 31st January 2024)
€1,090.- per person in a shared-double room
€1,315.- in a single room
Meals
Breakfast:
Daily Breakfast-brunch
Lunch:
Possibility to book your lunch at La Urraca
Dinner:
Exclusive Dinner
Daily Schedule
Yoga classes are all levels and will consist of a variety of breath work, meditation,  journal prompts…
We will introduce Vinyasa – Gentle yoga – Yin/Restorative – Sound Healing
07:00 Chanting Meditation, Pranayama
07:45 Herbal tea and fresh fruit
08:00 Yoga Session
10:00 Delicious brunch-breakfast
–  Free time  –
18:00 Yoga Session
20:00 Dinner
Program subject to change
Other Activities
In addition to the programme, there is plenty of free time to explore the beautiful villages and towns in the vicinity, or simply go on an adventure and let things come to life….
After our morning yoga session and « brunch style breakfast », some of you may want to head out for activities in the area or just read a book by the pool. There are also local restaurants nearby . The choice is yours.
For those who love shopping, art, history and culture, Málaga and Marbella are only 30 minutes away from the farm. Here you can combine city activities with an afternoon at the beach. If you want to spend your free time at the beach, we can recommend some nice places between Malaga and Marbella. 
In Málaga you will find the old town with its classic Spanish squares, alleys, cafés and restaurants. The port area has been modernised with a beautiful park, restaurants and places to relax. Malaga is a relatively large city, with 600,000 inhabitants, but the city centre is quite small and most of the highlights are within walking distance. The city also has a Picasso museum.
Granada and the Alhambra are less than 2 hours from La Urraca. Granada is one of the most exciting cities in Europe in terms of history, architecture and culture. Granada is best known for its ancient Moorish palace, the Alhambra, but you'll also find beautiful architecture from the period after the Christian reconquest of Spain in 1492. In the old town you will find unique Spanish architecture from both the pre and post 1492 period. If you wish to visit the Alhambra, you should book well in advance, especially in high season. Please contact us so that we can help you organise your visit.
Not only the big cities are worth visiting. La Urraca is surrounded by classic medieval white villages, such as Alora, Alhaurin Grande, Ronda and Istan, to name but a few. The village, Casarabonela, is only 5 minutes away. It is a traditional Spanish village, away from the tourist coast, with a charming square and a few restaurants. The village is situated on a hillside and the views are magnificent.
Feel free to ask about options available.
Flight and transport
The price does not include airfare and transportation.
Return flight ticket from Europe to Malaga is around € 200- to €400.- depending where you are flying out from. Possibility to extend your stay a couple more days in Malaga if you wish to. This is not included.
The arrival time at the Villa is around 16:00, so we can start the program around 17:00. On the departure day we have program until 10:00 and then departure after breakfast-brunch.
If you need car pick-up let us know and we will arrange where and when possible pick-up at the airport. Ideally we will try to group people arriving/departing more or less at the same time to bring down the cost of taxi to and from aiport (more details to follow).
And for those who feel comfortable driving around, we recommend renting a car to be free to explore the area.
We're Francine from French-speaking Switzerland and Julia from Malaga.
Our paths crossed for the first time in 2017 during a Yogateacher training course in India. In 2022, we met up again there and the idea of a joint yoga retreat was born.
Francine's yoga journey began in 2013 with a course in Anusara yoga. After that, many other courses followed: Vinyasa, Ashtanga, Prenatal yoga and Kids yoga, as well as Iyengar immersion and Inside Flow. She also returns regularly to India to see her teacher and perfect her skills. Francine has been teaching for many years and since 2018 has been running her own Yogastudio Zen & Tonic in Vevey, Switzerland.
Julia has been teaching regularly since 2016. Her yoga journey began in India and since then she has returned there as often as possible to immerse herself in the teachings of yoga, and to travel around the country.
Julia now has over 1000 hours of training in a wide variety of yoga styles such as Vinyasa, Ashtanga, Yin, Restorative and Mantra Yoga. She currently travels as a yoga nomad and teaches in Spain and Bali. 
Looking for a getaway? We are so excited, thrilled and eager to share with you some of the things we have learnt on our yoga journey. Why not come and join us?