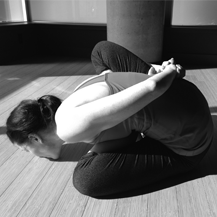 The Ashtanga style of yoga is meant to be practiced sequentially, each pose is linked to the next. The poses are choreographed, where the linking movement is as important as the poses themselves. Certain linking movements within the primary series are quite challenging, and could be intimidating for an observer new to the Ashtanga method.
Another intimidating factor is that advanced poses are sequenced with basic poses in the Ashtanga primary series. These basic poses in  other Hatha based yoga are fundamentals that are normally practice separately from the advanced poses.
With this understanding, the aim of this course is to filter out these intimidating factors by:
 Introducing the sequences in shorter logical sections, so that students will not be overwhelmed, and thus allow more time to mentally integrate the presented materials, and gain understanding of the flowing quality of the primary series.
Designing workshop like classes, where each pose will be decomposed by using props and variations,  so that proper alignment will be learned.
Thus, this is the intention of this course to provide
Safety of mind and body in the practice
Challenging yet fun approach
Encouragement based on individual needs
Above all the Asana Practice of yoga is not yoga if Patajali's yoga sutra principle of Sthira Sukham Asanam is not applied and taught; therefore the principle of practicing with Steadfastness and with ease will be applied throughout the course.
When? Fridays 17:30 – 19:00
Price: CHF 140.00 for 5 classes  / students CHF 85.00 validity 3 months
Drop-in class CHF 30.-
Contact: Kane: