KRAMA VINYASA FLOW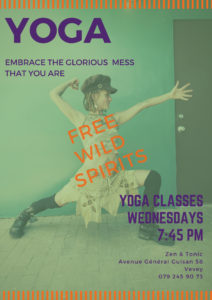 Wednesday 19:15 – 20:45 NEW SCHEDULE!
A vigorous Vinyasa flow. Deeply physical but also spiritual, a high energy class which includes hands-on adjustments.
As you sweat your way through fast paced Vinyasas, you will challenge your body, mind conditioning and end the class with relaxation, your emotions flowing through to meditation.
Performed to music this class is designed to develop a sense of enjoyment and to allow one's breath and energy to fuel the practice.
An alchemic mix of structure and freedom…
Contact: info@shivumpureyoga.ch
Tom and Sabrina have been practicing and studying yoga for a decade. Certified by different schools and methodologies, we enjoyed our practice but really felt at home when we found our long term teacher Stewart Gilchrist.

We are Yoga Alliance certified 300 and 500 hrs, studying towards the 800 hrs. Stubborn, rebels and free spirits, we wanted to create the class that we would love to attend.
Our life experiences has taught us that kindness to the self and others is fundamental and far supersedes perfection in the asana (yoga poses).
We try to apply the teachings of Yoga, in and off the mat, in our daily life and promote a holistic practice.