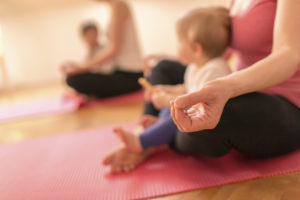 POSTNATAL YOGA:
This class is designed to help moms regain strength and energy post-birth. Rebuild strength in the abdomen, hips, and back and release tension in the neck, chest, and shoulders through a well-rounded yet gentle practice that will leave you feeling stronger and more energized. Most doctors recommend starting abdominal exercises at least 6 weeks post-birth for vaginal births, and 8 weeks post-birth for cesarean births, so listen to your body and trust your doctor's recommendations for when you should begin exercising again after giving birth.
YOGA POSTNATAL:
Cette classe est conçue pour aider les mamans à regagner de l'énergie et de la force après un accouchement. Un accouchement est un événement intense, physique et particulièrement riche en émotions. Après avoir accouché, une femme a besoin de douceur et de calme, mais aussi de reprendre des forces et de se retrouver. Le travail porte donc essentiellement sur des étirements et des exercices de souplesse des jambes, du dos, de la nuque, de la musculation en douceur de certaines parties du corps (le dos, le ventre, les fesses), des exercices de relaxation ou de méditation et un travail sur la respiration et le souffle.
Price / Prix:
CHF 180.- for 5 classes or CHF 40.- drop-in class
Students, unemployed : CHF 150.- for 5 classes or CHF 35.- drop-in class
CHF 180.- pour 5 séances ou à l'unité CHF 40.-
Etudiante, chômage : CHF 150.- pour 5 séances ou CHF 35.- la séance.
Tuesday / Mardi 10:30 – 11:45