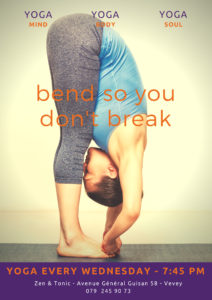 A vigorous Vinyasa flow. Deeply physical but also spiritual, a high energy class which includes hands-on adjustments.
As you sweat your way through fast paced Vinyasas, you will challenge your body, mind conditioning and end the class with relaxation, your emotions flowing through to meditation.
Performed to music this class is designed to develop a sense of enjoyment and to allow one's breath and energy to fuel the practice.
An alchemic mix of structure and freedom…
Contact: Sabrina & Tom
info@shivumpureyoga.ch
Tel.: 079 245 90 73
Wednesday 19:45 – 21:00