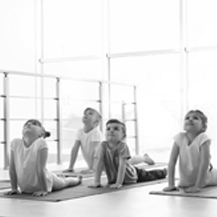 Et si le yoga pour enfants était une très bonne idée ?
Le yoga pour les enfants est ludique. Tout passe par le jeu et par le corps… Et pour que ça fonctionne, on va envelopper la pratique autour d'une histoire. Les enfants sont toujours partants pour imiter, que ce soit la rivière, un arbre, une montagne ou un animal. C'est par le jeu qu'ils vont s'intéresser, et prendre conscience de leur corps et de leur motricité.
Le yoga les aide principalement à canaliser leur énergie. Mais aussi à développer leur sens de l'équilibre (mental et physique), et à prendre conscience de leur corps dans l'espace. Contrairement à nous, ils sont toujours dans l'instant présent ! Le yoga se pose alors comme une bonne habitude, riche en petits outils à prendre et à ne pas oublier en grandissant, permettant d'être dans la pleine conscience…
What if Yoga for Kids was a very good idea?
Yoga for kids is great because it is playful. Everything goes by the game and by the body … To make it work, we wrap all this in a story. Children are always ready to imitate, whether it is the river, a tree, a mountain or an animal. It is by playing that that they become interested, and become aware of their body and their capacity of moving spontaneously and independently.
Yoga helps them to channel their energy. But also to develop their sense of balance (mental and physical), and to become aware of their body in space. Contrary to us, children are always in the present moment ! When started at an early age, yoga settles then in as a good habit, rich in small tools to be taken and not to forget as they grow to become young adults, by allowing to be in full consciousness …
Tuesday/Mardi : 17:00 – 17:50
Wednesday/Mercredi  : schedule on demand/nous contacter pour horaires

| | |
| --- | --- |
| Subscription options: | Abonnements: |
| 1st trimester from Jan 7 to Apr 11 2019 will cover 13 classes. CHF 260.- | 1er trimestre couvre du 7 janvier au 11 avril 2019 (13 cours) CHF 260.- |
| 2nd trimester from Apr 29 to July 5 2019 will cover 10 classes. CHF 200.- | 2ème trimestre du 29 avril au 5 juillet 2019 (10 cours) CHF 200.- |
| 3rd trimester from Aug 26 to Oct 11 2019 will cover 7 classes. CHF 140.- | 3ème trimestre du 26 août au 11 octobre 2019 (7 cours) CHF 140.- |
| 4th trimester from Oct 28 to Dec 20 2019 will cover 8 classes. CHF 160.- | 4ème trimestre du 28 octobre au 20 décembre 2019 (8 cours)CHF 160.- |
| Siblings 2nd child half price | Deuxième enfant abonnement moitié prix |
| The children can join the classes at any time of the year | Les enfants peuvent rejoindre les cours à n'importe quel moment de l'année |