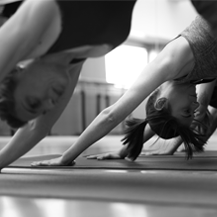 Prepare to move through a challenging, continuous flow of postures while using synchronized breath. Don't expect the same class every week – this flow class is designed to build strength, increase focus and concentration, and improve flexibility through intelligently designed sequences that change and evolve on a weekly basis. Dynamic Vinyasa Flow is appropriate for all levels of practitioners, rom beginners to advanced, but first-time practitioners are encouraged to take at least one Introduction to Vinyasa Flow class prior to attending this class.
VINYASA FLOW DYNAMIQUE
Préparez-vous à bouger à travers un flow stimulant et continu de postures tout en utilisant le souffle synchronisé. N'attendez pas à la même classe chaque semaine – ce cours est conçu pour construire la force, augmenter la concentration et améliorer la flexibilité. Le Vinyasa Dynamique Flow yoga est approprié pour tous les niveaux, des débutants aux praticiens avancés, mais si c'est la première fois, nous vous suggérons de prendre au moins une série de cours « Introduction à Vinyasa flow » avant.

Tuesday / Mardi 18:00 – 19:15

| | |
| --- | --- |
| Subscriptions: | Abonnements: |
| CHF 140.- for 5 classes (valid 2 months) | CHF 140.- pour 5 cours (validité 2 mois) |
| CHF 230.- for 10 classes (valid 4 months) | CHF 230.- pour 10 cours (validité 4 mois) |
| Students, unemployed : CHF 120.- for 5 classes (valid 2 months) | AVS, étudiants, chômage:CHF 120.- pour 5 cours (validité 2 mois) |
| Students, unemployed : CHF 200.00 for 10 classes (valid 4 months) | AVS, étudiants, chômage: CHF 200.- pour 10 cours (validité 4 mois) |
| Drop-in class CHF 30.- | Cours à l'unité CHF 30.- |