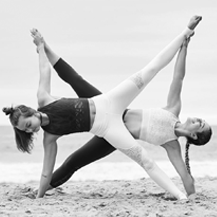 Le but de ce cours est d'acquérir la compréhension et l'appréciation de l'art et de la science de chaque pose de yoga. Nous allons décomposer chaque pose pour explorer la mécanique et l'aliment unique pour lequel chaque pose est conçue. Des accessoires seront utilisés pour aider à cette exploration. Le cours se déroulera dans un esprit d'atelier.
L'objectif est de fournir aux étudiants débutants les connaissances nécessaires pour soutenir leur pratique en toute sécurité, et de leur fournir la confiance et le confort nécessaires pour passer à des cours de yoga de type Vinyasa plus exigeants; et aux pratiquants plus avancés, l'opportunité de revisiter et de renouer avec le principe des alignements.
The emphasis of this course is to gain the understanding and appreciation for the art and science of each Yoga Pose. We will break down each pose to explore the mechanic and the unique aliment that each pose is designed for. Props will be used to help in this exploration. The course will have a workshop feel to it.
The goal is to provide to beginner students the necessary knowledge to support his/her practice safely, and provide the confident and comfort to advance into more challenging Vinyasa type of Yoga classes; and to more advanced yoga practitioners, the opportunity to revisit and reconnect with the principle of alignments.
It is why we practice again & again & again, to make the difficult – easy.
But this all starts from a mind that is playful and free.
Samedis / Saturdays: 10:00 to 11:30 les 15, 22 & 29 février
autres dates annoncées prochainement / check our website for further dates
Contribution minimum CHF 10.-
Contact: Kane: