Viviane: Hatha Yoga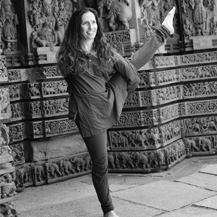 Lundi :
Hatha Yoga  12:00 – 13: 00
Ave Général Guisan 58 Z&T Studio Vevey
Mardi:
Hatha Yoga Doux  12:00 – 13:00
Ave Général Guisan 58 Z&T Studio Vevey
Jeudi:
Hatha Yoga (English) 12:00 – 13:00
Ave Général Guisan 58 Z&T Studio Vevey
Vendredi:
Hatha Yoga 12:00 – 13:00
Entre-deux-Villes (Salle d'Armes)
Contact: Anna Affannto
Cours Yoga Club Nestlé – merci de prendre contact avec Anna tout  renseignement.
Born and raised in Brazil, Viviane has always been passionate about classical dance. When making a professional choice, she decided to follow the Communication and Marketing studies, which required her to put the dance to one side, but not forgetting it.
Viviane continued her career in Italy before settling in Switzerland in 2006 when she discovered the practice of Hatha Yoga. At that time, with determination, she chose to do the yoga teacher training to share the knowledge of this milenary tradition, science and philosophy of life.
In the logical continuation of this journey, she embarked on a training of Yoga Thery,  graduating with a thesis entitles « The Interior Silence – Antar Mouna » as a tool in yoga therapy.
To initiate and also share this practice with children, she followed the training « Child Play Yoga ».
Viviane teaches adults, children, pregnant women and gives consultations at the Kaizen Yoga Therapy Centre in Corseaux.